Robert Eyck versterkt team Van Hell Apeldoorn
Robert Eyck kreeg het juweliersvak met de paplepel ingegoten. Dit leidde tot een carrière van 34 jaar, waaraan nu een nieuw hoofdstuk wordt toegevoegd bij Van Hell Juweliers Apeldoorn.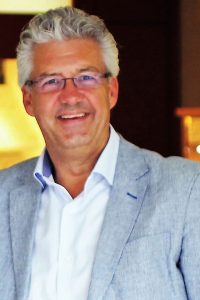 Bij Van Hell Juweliers staan kennis en vakmanschap hoog in het vaandel. Met de komst van Robert wordt het team van Van Hell Juweliers Apeldoorn versterkt met een vakman, die in de zaak van zijn vader de liefde voor het vak kreeg bijgebracht. Door zijn enorme kennis, ervaring en enthousiasme kan hij onze klanten in Apeldoorn uitstekend adviseren op het gebied van sieraden en horloges.
Het belangrijkste van zijn dagelijks werk vindt Robert het luisteren naar zijn klanten, waarna hij alles in het werk zal stellen om te voldoen aan de wensen van de klant. Ook wanneer u nog niet helemaal voor ogen heeft waarnaar u op zoek bent, neemt Robert graag de tijd voor u om ervoor te zorgen dat u precies het horloge of sieraad vindt, dat bij u past. Een mooi horloge of sieraad is immers iets blijvends. Soms zijn mensen op zoek naar een blijvend aandenken aan een bijzondere gebeurtenis of mijlpaal. Daar haalt Robert vooral zijn voldoening uit: een tevreden klant die met een positief gevoel de deur uitloopt.
Persoonlijke favorieten heeft hij ook, zoals de prachtige sieraden van Bron maar vooral de horloges van Breitling. Zoals Robert zegt: "Over dit merk is heel veel te vertellen en te laten zien. Bij Van Hell Juweliers in Apeldoorn hebben wij zelfs een aparte ruimte ingericht rondom dit merk, waar u wordt ondergedompeld in de belevingswereld van Breitling. Ik ontmoet u graag binnenkort bij Van Hell Juweliers in Apeldoorn."