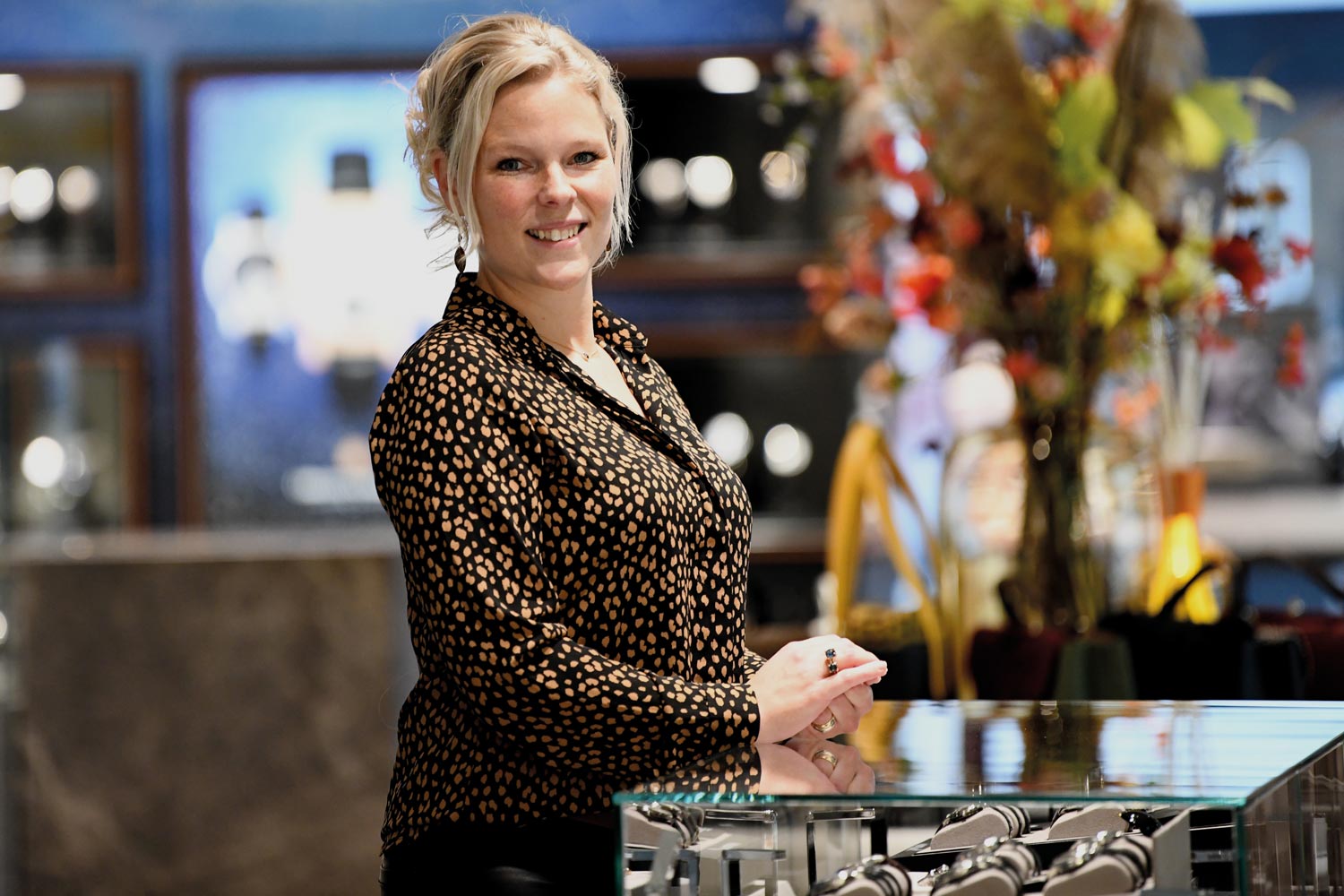 De top 3 van Debbie Klopman
Wat zijn nu de favorieten van het team van Van Hell Juweliers? Wij vroegen naar de top 3 van verkoopadviseur Debbie Klopman.
Debbie Klopman begon in januari 2017 als verkoopadviseur bij Van Hell Apeldoorn. Sindsdien heeft ze talloze klanten bij de aankoop van een prachtig sieraad of horloge kunnen helpen. Maar wat vindt ze eigenlijk zelf mooi? Zij gaat voor verrassend, stijlvol en sportief.

---
Ebel
De Ebel Discovery collectie spreekt mij erg aan. De horloges zijn stijlvol en zacht door de mooie kleuren van de wijzerplaten, de verfijnde wijzers en de manier waarop dit horloge als een sieraad om de pols valt. Tegelijkertijd zijn ze stoer vanwege de zeshoekige kastvorm en de gematteerde edelstalen band. Het is bovendien een horloge dat zich gemakkelijk laat combineren met verschillende sieraden. Zelf draag ik de Ebel Discovery met roségouden lunette en roségouden accenten in de band. Of ik nu elegant of sportief gekleed ga, mijn Ebel maakt mijn look altijd af.
---
Bron
Tja, welke vrouw houdt er niet van…
Houd je van uitbundig en veel, schuif die ringen maar aan! Houd je van een meer ingetogen stijl, een aantrekkelijke edelsteen in een rustig model zal zijn werk doen.
Er is werkelijk voor iedere vrouw een sieraad waar ze zich comfortabel bij voelt.
Ik vind het heerlijk om de klant te mogen adviseren bij het uitzoeken van een sieraad of een mooie set. Er zijn vele combinaties mogelijk, waardoor mijn tableau al snel vol ligt met verschillende modellen en edelstenen. Vaak zien we dat de dames dan zelf al beginnen met combineren en samenstellen. Hierdoor zien we maar zelden dat er dames zijn die een combinatie van Bron op eenzelfde manier dragen.
---
Pianegonda
Pianegonda vindt zijn inspiratie bij het maken van sieraden in de moderne architectuur en geometrische vormen. Dit zorgt voor sieraden met een eigenzinnige uitstraling. Een sieraad dat niet voorspelbaar is. Vaak hoor ik in de winkel, "Mooi, maar niet voor mij". Wanneer het sieraad dan toch even van de presentatie wordt gehaald en omgedaan wordt veranderen deze woorden vaak in 'Verrassend mooi!' Ik vind het heerlijk om af en toe uit een veilig patroon te stappen en een stijlstatement te maken!