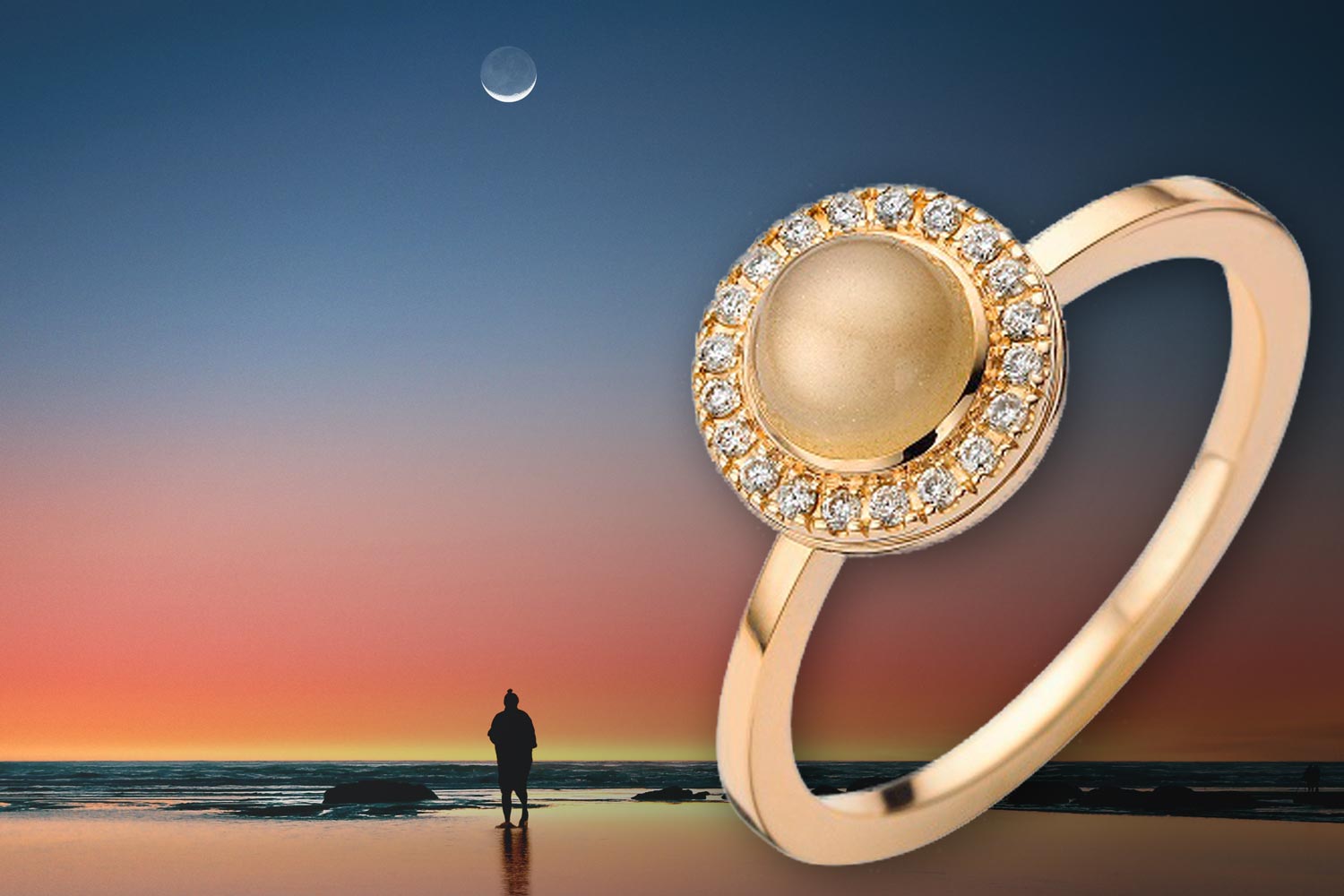 To the moon and back…
De Romeinen ten spijt, die geloofden dat maansteen ontstond uit maanstralen, komt maansteen niet van de maan. De edelsteen, die in veel verschillende kleuren voorkomt, dankt haar naam aan haar diffuse glans die doet denken aan maanlicht. Maansteen werd door de natuur in de loop der eeuwen opgebouwd uit hele dunne laagjes; het geheim van haar bijzondere glans. Maansteen en zomerkriebels hebben meer met elkaar gemeen dan we op het eerste gezicht zouden denken. 'Juni' de naam van de maand die onze zomer inluidt, is afgeleid van 'Juno'. De naam van de maangodin.
---
Maansteen in roségouden bezel zetting
Het Duitse juwelenmerk Artur Scholl heeft het creëren van vrouwelijke juwelen tot in het kleinste detail geperfectioneerd. In deze ring vormt de zachte glans van maansteen in kastzetting een perfect geheel met de glans van roségoud.
---
Bron Catch oorhangers
Maansteen is er in heel veel kleuren. Bron verwerkte in deze roségouden Catch oorhangers witte maansteen en champagne diamant. De maansteen is aan de onderzijde briolet geslepen wat in samenspel met het licht zorgt voor een prachtige twinkeling wanneer de oorhangers gedragen worden.
---
Moondrops ring
Moondrops is een geliefde sieradencollectie van het huis Roos1835. Ontwerpster en eigenaresse Michèle Nijs creëert sieraden met zachte vormen en kleuren. Gemaakt om dagelijks te dragen zodat ze één worden met de draagster. In deze prachtige roségouden ring wordt een bruine maansteen omringt door witte diamant.
Moondrops Oorhangers
Bijpassend bij de Roos1835 ring met bruine maansteen en diamant uit de Moondrops-collectie, zijn deze zeer stijlvolle oorhangers van roségoud met bruine maansteen in een krans van pavé gezette diamant. Het karaatgewicht van de witte diamant is 0,24 ct.
---
Sushi ring met briolet geslepen maansteen
Van het Nederlandse huis Bron komt deze mooie roségouden ring met bruine, briolet geslepen maansteen met een rand van briljant geslepen diamantjes. De ring is uit de Sushi-collectie. Een collectie die zich kenmerkt door prachtige stenen die verwerkt worden in gouden sieraden.
---
Ring met kwarts en maansteen
Drie prachtige stenen vormen samen met witte diamant ( 0,36 ct.), gezet in roségoud, een prachtige drie-eenheid in deze handgemaakte ring van Artur Scholl.