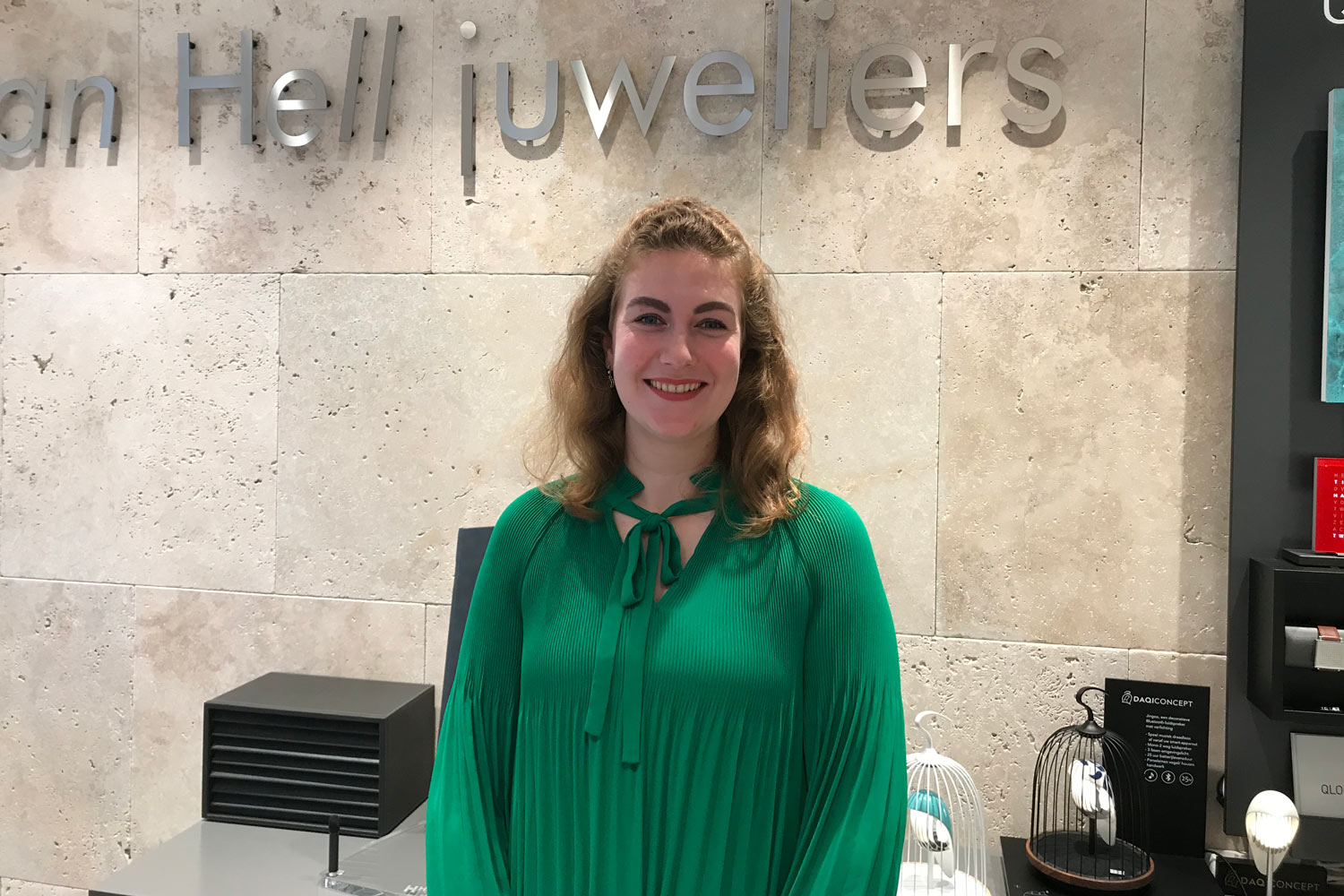 Nieuwe medewerkster binnen team Apeldoorn
Nadat we wegens haar pensionering afscheid moesten nemen van onze zeer gewaardeerde collega Els Ponstijn, is het Van Hell Juweliers team Apeldoorn weer op volle sterkte. Nieuw in ons midden is Lidewey Minks. Aan de hand van drie vragen stellen we haar graag aan u voor.
Welkom! Ben je na je studie direct bij een juwelier aan de slag gegaan?
De afgelopen 7 jaar ben ik werkzaam geweest in de mode als visual merchandiser en stylist. Binnen deze vakgebieden ben je vooral bezig met presentatie. Als visual merchandiser rondom een merk of product, en als stylist help je mensen bij het vinden van een persoonlijke stijl of creëer je een bepaalde look. Bij Van Hell Juweliers heb ik sinds kort een nieuw uitdaging gevonden.
Wat maakt je nieuwe beroep anders?
Ik heb voor Van Hell Juweliers gekozen omdat ik het erg leuk vind om mensen te adviseren. Als visual merchandiser doe je dat op het gebied van bijvoorbeeld winkelpresentaties. Als stylist wordt het al een stuk persoonlijker. Adviseren rondom de aankoop van juwelen en sieraden gaat daarbij nog een stapje verder. De aankoop van een mooie sieraad of horloge heeft meer emotie. Dat maakt het nog leuker om mensen te mogen adviseren bij de zoektocht naar een passend sieraad.
Heb je al een favoriete merk of sieraad?
Op dit moment help ik het allerliefst klanten bij het uitzoeken van een verlovingsring. Een verlovingsring heeft iets magisch omdat het zo'n bijzonder moment markeert. Het maakt me blij en nog enthousiaster dan ik al ben, wanneer ik een schakeltje mag zijn bij het vinden van de juiste verlovingsring.