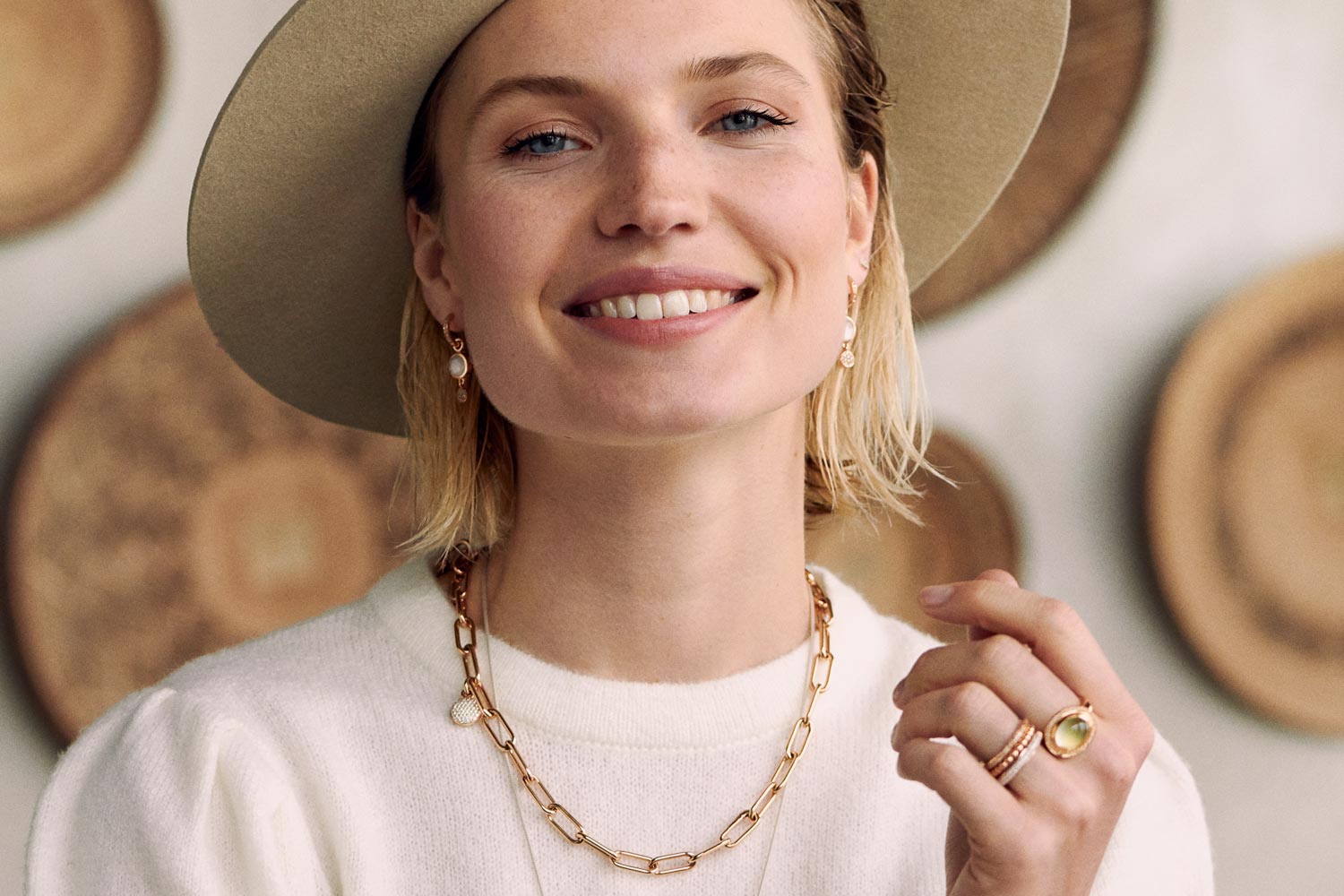 In the spotlight, Bron Jewelry
Bron is gewend dat de sieraden van het Nederlandse merk cadeau worden gegeven en gedragen bij feestelijke gelegenheden, maar dit jaar is Bron zélf het stralende middelpunt. Bron mag in 2021 namelijk het 20-jarig bestaan vieren. En dat feestje mag gevierd worden!
Bron Jewelry: in 2021 zelf het feestelijk middelpunt
Bron is goed beschouwd al zo'n 130 jaar oud, met een geschiedenis die begon in 1880 toen grootvader Bron een groothandel in buitenlandse juwelen opzette. Bron Jewelry zoals we dat vandaag de dag kennen is een stuk jonger. Het merk bestaat sinds 2001 toen Heleen Bron haar eigen collectie startte onder haar achternaam Bron – Fine Dutch Jewelry. Een naam van een familiebedrijf dat laat zien dat we niet langer voor mooie juwelen naar Italië hoeven te reizen. En waarom zouden we, als zoiets moois ook gewoon in eigen land te vinden is?
Wie Bron zegt, zegt edelstenen. De veelzijdigheid en aantrekkingskracht van kleur, vorm en slijptechniek zijn voor Bron onweerstaanbaar en zien we in de hele collectie terug. Elke Bron steen is 'hand-picked' waarbij edelstenen door de experts van Bron deskundig worden uitgekozen. Ze hanteren daarbij hun eigen definitie van schoonheid. Doorslaggevend is het 'leven' in de edelsteen, inclusief de kleine imperfecties die persoonlijkheid geven aan de steen.
Wie de collectie bekijkt en het verhaal van Bron kent, zal opmerken dat het familiegevoel terug komt in de collectie. Bron heeft het niet over productlijnen maar over families. Die families hebben elk een eigen signatuur en naam zoals Catch, Confetti of Joy. Al deze families delen hetzelfde Bron DNA en zijn vrouwelijk, creatief, comfortabel en charismatisch. De sieraden uit verschillende families zijn dan ook goed met elkaar te combineren en te dragen bij verschillende gelegenheden.
Een bedrijf met een geschiedenis als die van Bron kijkt ook naar de toekomst. Het brengt daarom de Full Circle, de eerste duurzame collectie van het merk. Alle sieraden zijn gemaakt van natuurlijke saffieren uit Madagascar. Van de winning tot aan de verpakking van de ring, armband en halsketting staat respect voor de natuur op de eerste plaats. Dat komt vooral tot uiting in de Full Circle hanger. Hierin heeft een losse, ruwe saffier een plek gekregen in het van Bron bekende kooitje, als reminder dat Moeder Aarde van grote schoonheid en kwetsbaarheid is.