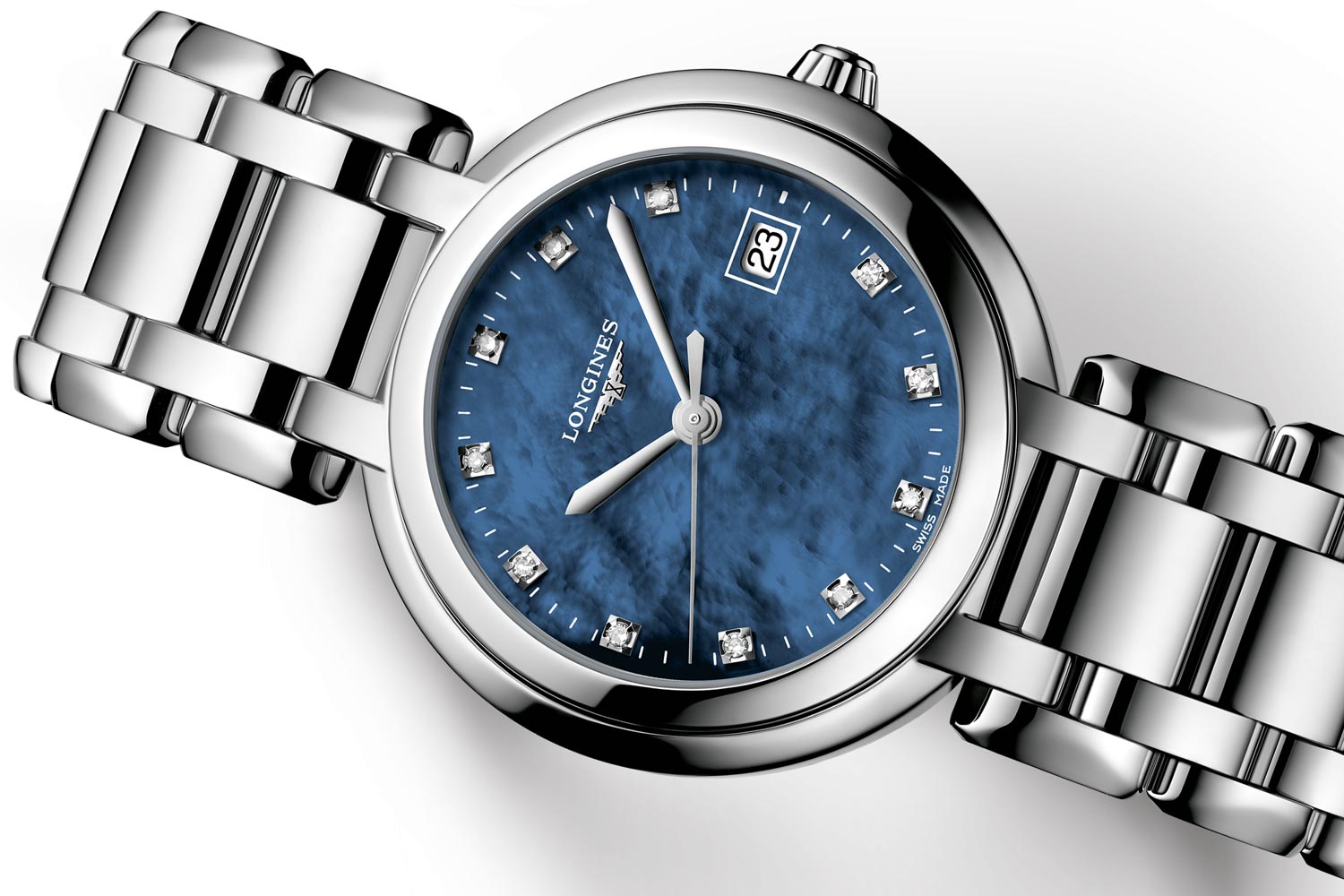 Fifty shades of blue
Navy blauw, azuurblauw, babyblauw, royal blue of grijsblauw. Blauw is de kleur van zomer 2022 en die is er in alle varianten. Laat ons weten welke blauwtint uw voorkeur heeft. Dan zoeken wij er een passend sieraad of horloge bij.
---
Donkerblauwe sterrenhemel
De PrimaLuna van Longines is een tijdloos horloge, maar in deze uitvoering doet het denken aan een warme zomernacht. Zo'n nacht dat sterren fonkelen aan de nachtelijke hemel of in dit geval als elf briljant geslepen diamanten op de blauw parelmoeren wijzerplaat. De edelstalen kast, die is geïnspireerd op de maan, en band maken deze PrimaLuna ook tot een prettig draagbaar horloge voor de warme zomerdagen.
---
Breitling-blauw
Nieuw in de collectie van Breitling is de Endurance Pro en dit opvallend blauwe horloge wilden we u niet onthouden. Het horloge heeft een lichtgewicht Breitlight kast met een diameter van 44 millimeter. Dit materiaal is niet alleen superlicht, maar ook niet-magnetisch, thermisch stabiel en hypoallergeen. Het is bovendien zeer goed bestand tegen krassen, tractie en corrosie. De chronograaf met rubberen band is zowel tijdens het sporten als casual te dragen.
---
Crystal Blues
De ringen van Bigli zijn er in vele kleuren zoals deze Mini Chloé Rock Crystal Blues. Ze kan als enkele ring worden gedragen, maar heeft een triplet van parelmoer, turkoois en bergkristal. In de roségouden ring is naast de steen een diamant geplaatst. Gedragen met bijvoorbeeld de Eclectic Blue krijgt het geheel een eigentijdse uitstraling.