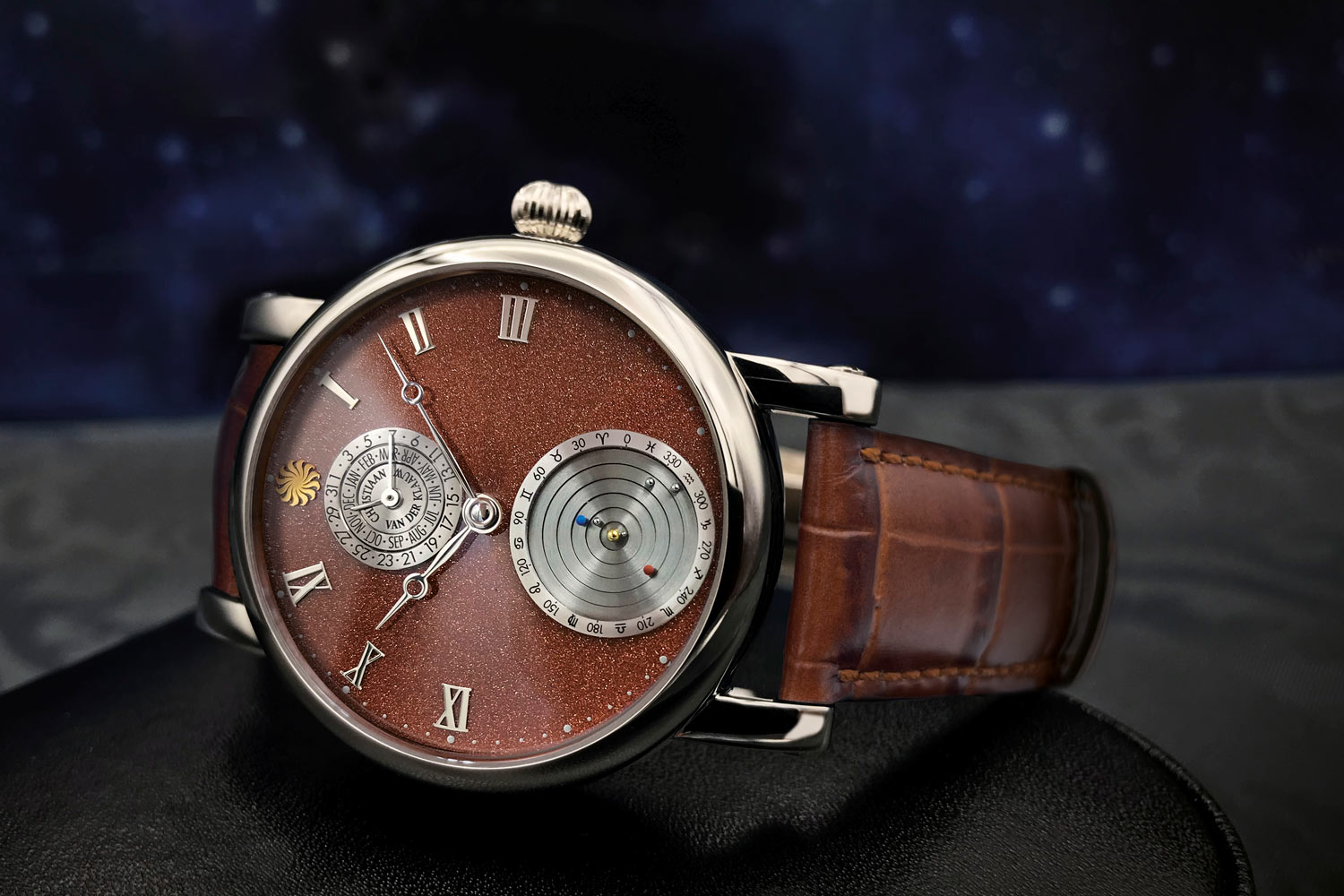 De Van Hell Times is op weg naar u
Binnenkort valt hij weer bij u op de mat: de Van Hell Times. Of wellicht treft u hem als bijlage bij het Financieele Dagblad of de Quote. Het is inmiddels immers een traditie om het jaar af te sluiten met een magazine vol met de mooiste horloges en sieraden. Wij kunnen niet wachten om ze in de Van Hell Times met u te delen. Daarom vindt u hier alvast een klein voorproefje.
---
Dunes Of Mars
Christiaan van der Klaauw kennen we om zijn astronomische complicaties en met de Dunes of Mars neemt het ons mee naar Mars, de planeet waar de mens nog geen voet aan de grond heeft gezet. Dit horloge is een eerbetoon aan de rode planeet en de wijzerplaat is daarom gemaakt van rood Aventurijn glas. Het betoverende horloge beschikt over het kleinste mechanische planetarium ter wereld en toont de omwentelingen rond de zon van Mercurius, Venus, Aarde, Mars, Jupiter en Saturnus. Het edelstalen model is een limited edition van zes exemplaren waarvan u er één vindt bij Van Hell Juweliers.
---
Confetti
Een feest vraagt om confetti, en dan hebben we het natuurlijk niet over de gekleurde papiersnippers die maanden later nog overal terug te vinden zijn. Nee, wij denken daarbij aan deze Confetti-ring van Bron. De roségouden ring is gemaakt om het leven en de liefde te vieren met een spectaculaire cocktail van verschillend gekleurde diamanten en saffieren. Van de ingetogen uitstraling van champagne diamant tot saffieren in opvallende knalkleuren – deze Confetti zorgt voor een feest om nooit te vergeten.
---
Vintage
Een nieuw horloge is een aankoop die nooit zijn waarde verliest. Sterker nog, sommige vintage horloges worden in de loop der tijd zelfs meer waard. In de Van Hell Times vertelt onze vintage-horloge deskundige Koen Simon meer over deze 'mechanische kunststukjes met een geschiedenis'.
---
Verrassingen
Jörg Heinz houdt van verrassingen, net als wij. En we beloven dat ook u verrast zult zijn door deze bijzondere oorhangers. In deze roségouden (E)Motion oorhangers schitteren 82 natuurbruine diamanten met in het middelpunt een glanzende Tahitiparel. Deze oorhangers hebben echter een geheim. Bij een lichte beroering van de parel verschijnt er als bij toverslag een natuurbruine briljant geslepen diamant.
---
Een levendige fotoshoot
Een Van Hell Times biedt met zijn aansprekende sieraden en horloges al veel plezier om eens goed voor te gaan zitten, maar deze bijzondere producten komen nog beter tot hun recht als we ze zien op mensen die ze dragen. Geniet daarom van onze eigen fotoshoot waarin Andries, Britt, Megan en Leon de producten tot leven brengen die u in Amersfoort en Apeldoorn in onze vitrines vindt.